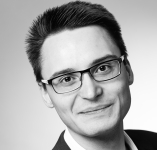 Mischa Blaszczyk, M.Sc.
Courses and seminars
Tutorial for the courses Mechanics A, B and C for students of Mechanical Engineering, Civil Engineering and Environmental Engineering
Tutorial for the course Finite Element Technology
Supervision of practical work for the course Measerument Engineering
Research
Electromechanical coupling and applications in biomechanics
Coupled wave propagation in bones for the early detection of osteoporosis
Electric and magnetic metamaterials
Numerical methods in topology optimization
Professional background
2012
Internship at Hella KGaA Hueck & Co. in Recklinghausen
2013
Abitur (higher education entrance qualification) at Städtisches Gymnasium Herten
2013-2019
Bachelor and Master studies in Mechanical Engineering at der Ruhr University Bochum with specialization in Applied Mechanics
2015-2018
Completion of courses in the major Mathematics at Ruhr University Bochum (secondary studies)
2015-2019
Student assistant at the Institutes of Mechanics at Ruhr University Bochum
2016
Internship at Wilo SE in Dortmund in the sections Mechanical Manufacturing and Assembly
2017
Internship at Siemens AG in Mülheim an der Ruhr in the section Research and Development steam turbine
since 2019
PhD student at the Institute of Mechanics of Materials at Ruhr University Bochum
2023-2025
Nomination as a GAMM junior
Supervised Student Works and Thesis
P. Saddei: Use Cases for Differentiation Based on Hyper-Dual Numbers in Optimization Problems and Hyperelastic Material Models, Project Work
L. Q. Tran: Application of the Laplace Transform to problems form dynamics and rheology, Bachelor Thesis, with U.Hoppe
P. Saddei: Implementation of a piezomagnetic material model in the scope of the finite element method , Bachelor Thesis
B. A. Kemguep: Implementation of a regularization method for unstructured meshes in a finite element program for topology optimization, Bachelor Thesis
V. Stieve: Application of artificial neural networks to the inverse modeling of cancellous bone, Master Thesis
N. Dinh Thuy: Open Boundary Conditions in Electromagnetic Field Simulations for Impedance Computation, in cooperation with Robert Bosch GmbH Zentrum für Forschung und Vorausentwicklung, external supervisiors: A. Klaedtke, J. Stysch., Master Thesis
If you are interested in a student work under my supervision, please write me an E-Mail or visit me in the office. We can then discuss possible topics.
Publications
Orcid: Mischa Blaszczyk